Why "Doc" Jamar Montgomery?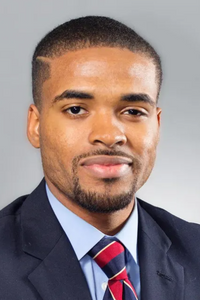 An Unapologetic Voice
Leadership is the service you provide, not the position you hold. My life has been dedicated to service- from teaching young people their rights as a political science professor, then defending their rights as a juvenile public defender, to supporting our warfighters as a weapon systems engineer. I put people and the mission first, and it is my mission to serve the people of Louisiana to the best of my talents and abilities.
A Diligent Advocate
I want to be the Senator that you call when you have an issue, especially one that's being ignored. A major issue affecting Louisiana, especially seniors, is identity theft. Last year alone, there were over 5,000 confirmed complaints of identity thefts in Louisiana. I want to be the Senator that works with federal and state offices to bring the necessary resources, solutions, and justice to the problems we all face.
THE PLATFORM
BIGGER BETTER BUSINESS
Louisiana is a rich state, and if we distribute opportunity and resources in high growth industries, we can improve the standard of living and no longer be last in opportunity.
Introduce smart regulations that increase access and opportunity to high growth industries
Better tax breaks for small businesses and self employed individuals
Youth employment and entrepreneurship incentives
Social Action
Whether we are protecting the Constitution or advocating for our children, progress happens when we take action. Find a cause and live for it.
Increased funding for veteran mental health and suicide prevention services
Law enforcement supplemented by social services
Increased disaster preparedness funding and training for local governments
Educational Excellence
Our children deserve to have teaching methods tailored to their learning style. Every Louisianan deserves a practical and relevant education that makes them productive and employable.
Universal Pre-K to prepare our students for lifelong learning
Incentives for distance and hybrid K-12 education
Introduce increased funding for trade and professional training
Technology
Technology used to make data driven decisions and traceable data throughout government using distributed ledger technology. Financial Technology. Protecting our personal and private information through Cybersecurity and IT.
Stronger privacy protections against government and corporate surveillance
Incentives for Blockchain technology development, cloud computing, and artificial intelligence research
Increased funding for renewable energy production and storage